Partner CPD | Autumn 2021
Links to local CPD on offer via our trusted partners
26th Nov 2021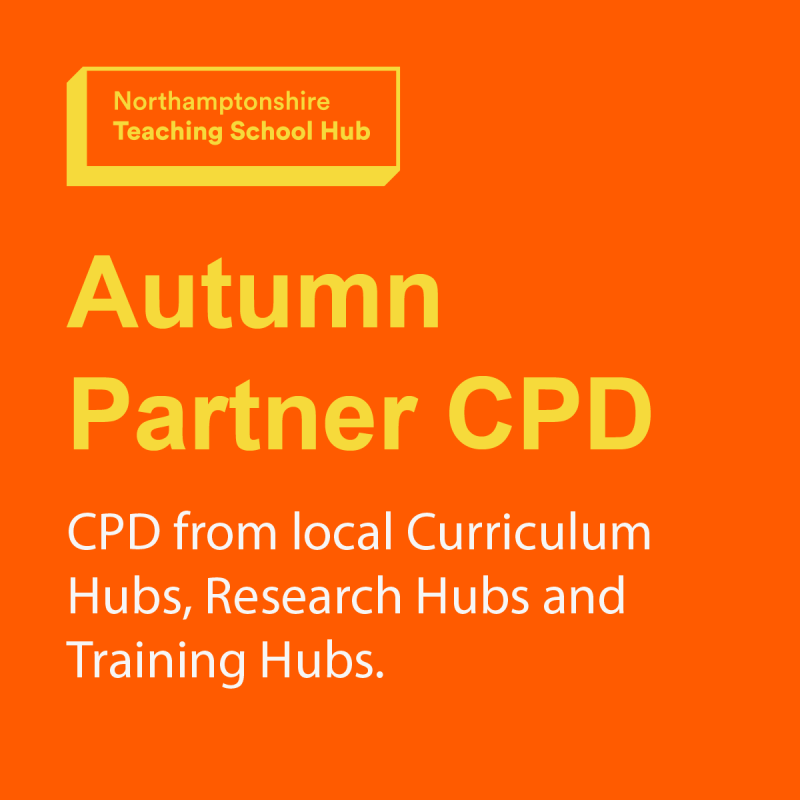 Curriculum Hubs
You can read the latest October EMS Maths Hub Bulletin here.
Find out more about Roade English Hub's Accelerator Funding which is available to schools in key areas who need to move to an accredited SSP. Schools can apply online and would then receive up to £3000 and up to 2 days of virtual specialist support. Find out more
Research Hubs
Learn-AT and Kyra Research School
Learn-AT Associate Research School alongside KYRA Research School are delighted to bring you the following Evidence Briefing sessions, going through the recommendations from the EEF Guidance Report. All sessions run from 4pm-5pm and are completely FREE to book. Please reserve your place by booking here.
Local Training Hubs
Brooke Weston Primary Training Hub
Upcoming Autumn CPD featured in the Primary Training Hub Autumn Newsletter.
Swan Training School
Behaviour Management Training cohort 1
The training consists of two half-day sessions and will be delivered by Ann Pugh (Director of the Grand Union Training Partnership)

This course is ideal for teaching staff wishing to brush up their classroom management skills.

Event Date: 30

th

November & 8

th

December 2021 1:30pm - 4:00 pm

Location: Face to Face at GUTP House.
Cost: SWAN SLA members receive 1 free place on either the Autumn or Summer course; £200 per delegate for non-SWAN SLA members

Book you place:

Behaviour Management Training
New to Governance Session
This three session course led by Sally Perkins is aimed at those new to the governor's role.

Event Date: 30

th

Nov, 8

th

Mar & 14

th

June 2021 6:00pm – 8:00pm

Location: Face to Face at GUTP House.
Cost: £150 per delegate for SLA members: £225 per delegate non members.

Book you place:

New to Governance
Please visit https://www.sponne.org.uk/ts/index.php/professional-development/calendar to view all of our courses and events for 2021-2022. Bookings can be made online. Queries regarding any courses / events can be directed to trainingschool@sponne.org.uk or call 01327 250284 ext 251.
University of Northampton


Leicester Children's Hospital School
Managing Self-Harm in schools
Date: 18

th

November Time: 4-5pm

Venue: online
Supporting young people with significant Anxiety/Anxiety Disorders
Youth Mental Health First Aid – 2 day