Train to Teach | School Direct 22/23
Find out more about the routes into teaching and how our Hub can support your journey
28th Jan 2022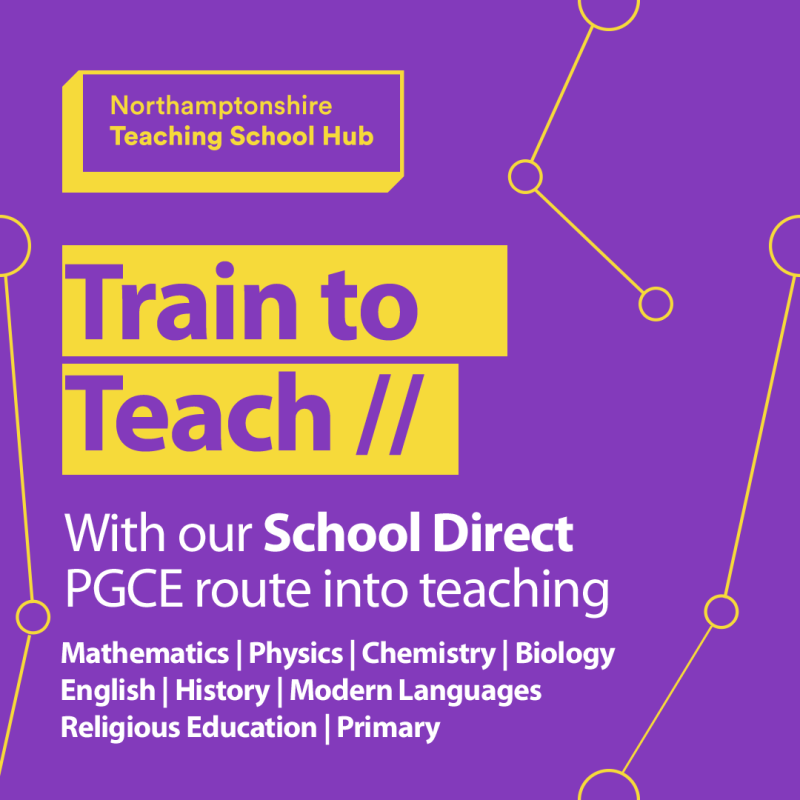 Northamptonshire Teaching School Hub offers the chance to follow the exciting Post Graduate Certificate in Education (PGCE) training programme leading to Qualified Teacher Status (QTS) across a range of subjects and age stages. Our strong, ever-growing, network of expertise means that we are at the forefront of innovative practice in this area.
Completion and employment rates are high. Trainee satisfaction is also at a very high level, as shown by the evaluations of the course; the university training, the opportunity to discuss issues with peers, the level of support and the feeling of being valued are all particularly appreciated.
School Direct PGCE with the Universities of Northampton (Primary) and Leicester (Secondary, various subjects)
School Direct is a school-led teacher training route, where participating schools recruit and select their own trainees in collaboration with the university providers. Northamptonshire Teaching School Hub is delighted to be working in partnership with University of Leicester and University of Northampton, for our secondary and primary training respectively. Through this partnership, we have harnessed the best and most innovative expertise from universities and schools within the Alliance to provide a training programme of the highest standards. Almost all the trainees recruited onto our School Direct programme have secured employment within the Hub schools; an indicator for the quality of our programme and of our commitment to providing high exemplary training and support for our trainees.
For this programme, we have combined the best elements from a range of training routes, ensuring that trainees graduate from the course feeling supported, confident, and well equipped for teaching. We take pride in ensuring that all our Early Career Teachers (ECTs) are provided with excellent opportunities for career development and receive high quality ongoing support. So, if you are looking for an exciting new career that is underpinned with a passion and commitment to improving the life chances of young people, take a look at the various programmes we have on offer.
Our current programmes take in a range of secondary teaching subjects, as well as the primary phase across Key Stage 1 and 2.
Current Secondary PGCE Subject Options:
Biology
Chemistry
English
History
Mathematics
Modern languages: French, French with German, French with Spanish, Spanish with French
Physics
Religious Education
Why School Direct PGCE?
A PGCE is a Post-Graduate Certificate in Education and can be completed as a Core or a School Direct PGCE. The universities may well offer both. Our School Direct PGCE offer combines the best elements of the PGCE with other fully school-based courses. This means that you get the slower phased introduction to your classroom experience characterised by the Core PGCE, and you also receive the high-quality University lecture support, often taught in parallel with other PGCE courses. But with the School Direct, you become an integral part of our Hub school communities, with the bespoke support of a school-based mentor, a co-tutor, of equal importance to your university-based tutor. Our school community will get to know you well during your two school placements in the year, and many of our School Direct graduates look to apply within our hub of schools when looking for their first teaching post to continue the 'golden thread' of their teaching career with us.
Exceptional academic and university partners
We work with two prestigious university partners, located close to our schools in the East Midlands:
The University of Northampton, our primary SD PGCE partner, has over forty years of successful experience in initial teacher training, education, and research. With new and purpose-built premises at the fabulous Waterside Campus close to the town centre, the University prides itself on its excellent primary teaching resources, many housed in a special section of its wonderful library. It is also proud of its approach to smaller workshop-style teaching when on site. The University was awarded a TEF Gold (see https://www.theuniguide.co.uk/advice/choosing-a-course/teaching-excellence-framework-tef-explained-what-it-means-for-you ) for many of these reasons.
The University of Leicester is our secondary SD PGCE partner and is housed near the centre of the of this vibrant city with excellent facilities at its School of Education housed close to the campus centre. Students can benefit from the excellent library facilities and the wealth of experience from the teaching staff. The School of Education holds a very prestigious reputation within the initial teacher training community and graduates from its courses are highly sought after by employers.
Both of our university partners offered a structured and rigorous programme that will give you a firm start to your teaching career.
A Bespoke Professional Development Programme
All our programmes offer weekly training events with other trainees. This provides time for focused activities on teaching and learning, opportunities to innovate and invaluable time with your network of peers. These sessions are carefully tailored and personalised to your needs, ensuring that we are agile to your requirements as early-stage teachers, as you progress through your training year.
Professional coaching support from experienced school-based mentors or co-tutors
Across the Teaching School Alliance, we have a wide variety of different schools, enabling trainees to experience a wide range of different contexts, ensuring that all trainees are well prepared for their future career.
Our co-tutors are chosen from expert practitioners who are keen to support your journey through to QTS. They all participate in university-based training for the role and are supported by an ITT Coordinator, who is often a member of the senior leadership team at the school you are working with. The Teaching School Hub chooses these colleagues very carefully and they are known for their warm and supportive approach to your development. They follow a coaching model, which allows you to talk through celebrations and challenges, as well as listening to you as you work through solutions. You will expect to be supported at every stage of your teaching through this first year; many of our students feel they become a valuable member of their departments very soon after their placement starts.
You will be placed in two contrasting schools, in the primary phase in contrasting year groups, and will receive support from two co-tutors.
All of our School Direct places will lead to QTS status and PGCE accreditation.
School Direct Training and Academic Requirements
To apply for this route you must meet the statutory requirements for initial teacher training. For secondary phase training, your degree should be at least 50% in the subject are in which you wish you teach, although in some cases we will also consider degrees that are closely linked e.g. an engineering degree for a science training place.
Our university partners will place additional entry requirements on the undergraduate degree you hold. This is usually a 2:2 for the SD Primary PGCE and either a 2:1 or 2:2 for our secondary courses, the entrance grade depending on the subject studied.
How to apply
The application process is now managed directly through The Department for Education. You need to register to the 'Apply' site at https://www.apply-for-teacher-training.service.gov.uk/] and you can search for our courses there. If you would like more information about the fees and funding and routes please click here: Inspire the next generation | Get Into Teaching (education.gov.uk)
Feel free also to contact our team of dedicated professionals here at the Hub if you have any questions. Please email: itt@northantstshub.org
Look out for our open events!
We are organising two open evenings, or mornings for you to talk to staff over a cup of tea or coffee and hear more about our programmes, as well as regular coffee mornings held at our lead school, Brooke Weston Academy, where you will also be able to tour the building and talk to our current student teachers. Watch this space for dates!